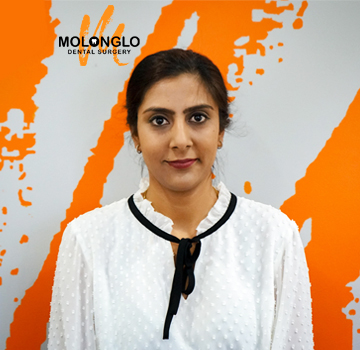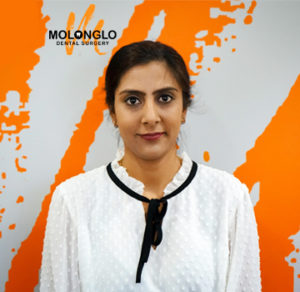 Dr Monica Sharma
Dentist
With over 17 years of experience in private practice and outpatient dental services, Dr Monica Sharma brings a wealth of expertise to Molonglo Dental Surgery. Years of overseas and Australian work exposure, gifting Dr Sharma the unique privilege of serving a diverse range of patients from all walks of life, has honed the dentist's array of clinical knowledge, skills and experience – both as a general practitioner as well as compassionate healthcare provider.Over the last 7 years, she devoted her time, energy and vast clinical expertise to serving the local communities in ACT and NSW. As a private practitioner, her affable personality, outstanding professional ethics and patient-first attitude have won her numerous positive feedback, evidenced by a sizeable patient following throughout her respective tenures. Dr Sharma's excellent academic credentials – is matched by a stellar career that continues to grow from strength to strength.
As an AHPRA registered, ADC Accredited Practitioner as well as Member of Australian Dental Association, Dr Sharma is committed to preserving the country's high patient safety and infection control standards in her practice. This can be seen from Dr Sharma's insistence on using low-dose radiography equipment for all of MDS's diagnostic work and stringent observance of hygiene protocols at all times. Highlighting patient comfort as one of her priorities, Dr Sharma is also a strong advocate for minimally invasive techniques, particularly when treating nervous patients and children.Dr Monica Sharma is a highly versatile general practitioner with multi-disciplinary areas of special interest, covering Cosmetic, Restorative and General Dentistry. An accomplished Cosmetic Dentist, she is versed in an array of aesthetic treatments including Dental Veneers, In-Chair Whitening, Dentures and Facial Injectable Therapy. Her restorative portfolio covers Dental Crowns, Bridges and Implants. The proponent of modern dental technology is further skilled in Laser Dentistry, CEREC Restorations and Myofunctional appliances.
In the area of continuing education, Dr Sharma continues to upgrade her skills and knowledge as a clinician and private practitioner. Attending a host of CE courses between 2008-2018 has contributed enormously towards her professional development and will undoubtedly continue to benefit all our patients and customers.
Dr Sharma's extensive CE training includes such courses as: Osstem Implant surgical procedures, AADFA Botox treatment, Straumann Implant Restorative, Relative Analgesia (Westmead Centre for oral health), Management of Medical Emergencies (Cynegex Australia), OTC for Dental Graduates (DHSV Melbourne), Diagnosis and Management of Oral Cancer (India), Advanced management of RCT & Re-RCT (India), Hands on Workshop on Porcelain Laminate Veneers Certificate (India).
Working behind the scenes to deliver Beautiful Smiles
The dental team at Molonglo Dental Surgery constantly stays in touch with the latest in dental training and technology to enhance your patient experience. Through continuing education courses and product-oriented training programs, we remain firmly on the cusp of the most advanced dental techniques, protocols and tools that are constantly being improved and enhanced for the delivery of faster, more efficient and safer treatments.To be truly successful as a dental practice, it takes a concerted effort from every one on the team working towards a common goal. Apart from our clinical pursuits, our goal is also to enhance your patient experience. We can't do it without you. Yes, in some regard, you are part of our team.
The same way we take all our dentist-patient communications seriously, we also pay a lot of attention to patient feedback – whether complimentary or otherwise. In order to improve and better our services and your patient experience, we want to hear from you – our valued customer.
We Mean What We Say
Indeed, "the provision of quality dental care" is not just an affectation to us at Molonglo Dental Surgery but a mantra that permeates our practice culture. Our Practice Philosophy underpins the organisational goals that we strive to achieve regularly or on a daily basis.
Choose Molonglo Dental, If You Are Looking For A Best Dentist In Canberra Region.
Call Us Today On 02 6287 1222 To Book Your Next Dental Appointment.